TRAIN YOUR SEAT
BREATHING IN BALANCE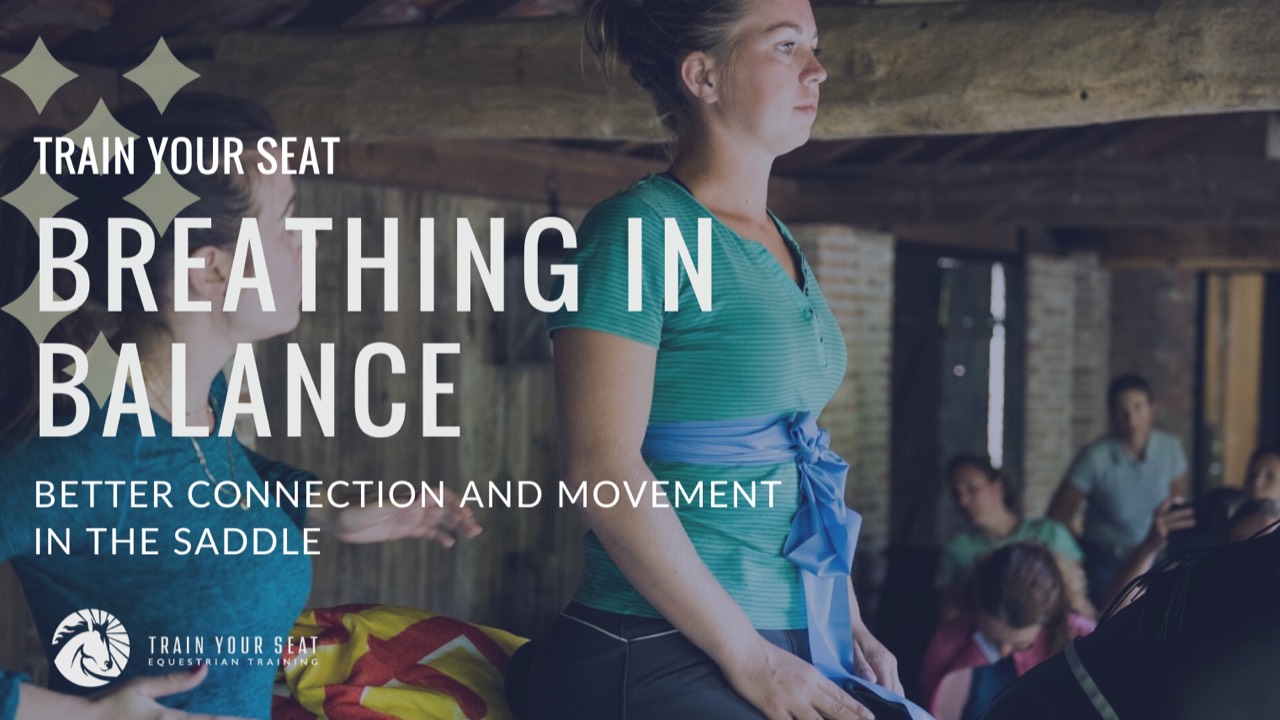 Transform Your Mind, Body, and Riding with Breathing in Balance.
⎯⎯⎯⎯⎯
Unlock your true riding potential by focusing on one of the most essential aspects of equestrian performance - breathing.
During this ONLINE course, you'll learn exercises, imagery and embodiments for breathing as they apply to riding, both in and out of the saddle.
Learn how to properly train your breathing, improve your posture and ride more effectively.
REGISTER NOW
About Breathing in Balance
⎯⎯⎯⎯⎯
During this course you'll experience anatomical education and embodied function as they directly apply to equestrians using Franklin Method® imagery and cutting edge Train Your Seat™ techniques.
As an equestrian, you know that proper breathing is crucial to your success in the saddle. However, many riders overlook this essential aspect of their riding. As a result, their overall performance suffers.
Do you ever find yourself feeling out of breath or anxious while riding? Do you struggle with maintaining balance and control while performing more complex movements? These challenges can be frustrating, but they can also be overcome with the right training.
Proper training of breathing can have a huge impact on movement and posture.
In this course, we will teach you how to master your breathing techniques, helping you stay calm and focused while riding. You'll learn how to train your breath to maintain control, balance, and a connection with your horse.
Here are just a few of the benefits you can expect from this course:
Greater focus and control while riding, leading to improved safety and confidence

Improved posture and alignment, which can help prevent injuries and reduce fatigue

Increased connection with your horse, leading to a more enjoyable and fulfilling riding experience

A better understanding of how your breathing impacts your riding performance and horse's way of going

Techniques that can be applied to any riding discipline, from dressage to jumping and beyond
This course is designed for riders of all levels, whether you're a beginner or an elite rider.
You'll also discover exactly how to use Franklin Balls and Franklin Bands to enhance the embodiments and breathing exercises.
REGISTER NOW →
Here's what you'll find inside
⎯⎯⎯⎯⎯⎯
✓ Course filled with HD quality videos featuring mounted and dismounted instruction
✓ Unlimited access to the course through the Franklin Method® Equestrian online education portal "Train Your Seat™ Online"
✓ Franklin Method® Fundamentals
✓ Training the diaphragm for optimal breathing mechanics
✓ Training the ribs to resolve misalignment and collapsing to one side
✓ Training the lungs for increased breath capacity
✓ Downloadable PDF exercise guide
✓ BONUS: LIVE workshop Franklin Method Equestrian: The Art of Breathing ($45 value)
Regular price: $75
Limited time price: $55
REGISTER NOW
See why riders are raving about the
Franklin Method® Equestrian and
Train Your Seat™ techniques:
"Can't say enough about the Franklin Method Equestrian training philosophy!"
Alysen Starko-Bowes is a phenomenal educator and instructor who founded the Franklin Method Equestrian training program.
The Franklin Method helps us understand the internal workings of our bodies and how this impacts our riding. The Franklin Method brings riders to a whole new level of biomechanics!
"It's made massive improvements for me and my horse's way of going!!"
I wish more people could feel the difference in their riding position as I have since using the Franklin Method. It has changed the way I think, feel and experience movement when I ride. I'm so glad I decided to give it a try!
*LIMITED TIME* BONUS LIVE WORKSHOP
FRANKLIN METHOD EQUESTRIAN
THE ART OF BREATHING
⎯⎯⎯⎯⎯
👩‍🏫 Led by Franklin Method Equestrian and Train Your Seat founder Alysen Starko-Bowes
Breathing well is an important skill to master which will have a massive impact on your movement, posture and performance. Breathing is also closely tied in to our mental and emotional state of being. When you breathe fully, you communicate a calm and relaxed state to your horse. When your breathing is restricted, you communicate the opposite which can lead to tension and unnecessary stress for your horse. Learning how to breathe better and control your breathing is the quickest and easiest way to positively influence your horse's way of going.
During this 2 hour workshop you'll learn…
Why changes to your breathing will improve your posture in the saddle.
How to resolve misalignment in the ribcage including twisting and collapsing to one side.
5 powerful breathing techniques to help you stay calm and focused especially during a show or competition.
Simple exercises you can do anywhere to train your breathing for efficiency and more breath capacity.
Why training your breathing mechanism properly is the KEY to a supportive 'core'.
This workshop will also have a live Q&A portion which is an excellent opportunity for you to engage directly with Alysen and get personalized guidance and support. During the Q&A, you'll have the chance to ask questions and receive tailored advice based on your unique needs and goals. You'll also have the opportunity to learn from other equestrians taking the course, as they share their experiences and insights! Our live Q&A is designed to provide you with the most comprehensive and effective learning experience possible, ensuring that you get the most out of your time with us.